Golf Specific Training

Really Get Into the Swing of Things.
Dr. August La Ruffa is a Certified Titleist (TM) Performance Instructor. As a Titleist-approved fitness professional, Dr. La Ruffa is certified by Titleist in golf-specific training to work with amateurs and current PGA and LPGA professionals.
Utilizing a specific physical screening process, Dr. La Ruffa measures a person's ability to generate and transfer speed, and determines the most efficient energy transfer throughout the body. At La Ruffa Chiropractic & Sports Rehab, golfers are led through a complete array of tests - those usually reserved for the best golfers in the world. By assessing a "total picture" of your body, and your swing, Dr. La Ruffa will recommend a program that will seamlessly integrate into your existing PGA or LPGA professional's instruction to help you optimize your performance through a series of assessments.
Conditioning.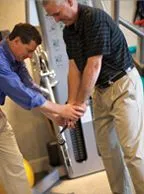 Utilizing La Ruffa Chiropractic & Sports Rehab's physical screening process developed by the Titleist Performance Institute, we will isolate any physical limitations, correlate these findings to your swing technique and prescribe a custom-conditioning program.

We measure your ability to generate and transfer speed and determine the most efficient energy transfer throughout your body. Through chiropractic care and physical therapy, post-conditioning assessments will prescribe a specific, custom program to improve factors like strength, flexibility, balance, endurance, stability, power, and posture, which all influence the body's mechanics.
Whether you're just beginning to take a serious interest in your golf techniques, a total beginner, or a professional, being assessed and treated by Titleist Certified Performance Instructor Dr. August La Ruffa will improve your game, improve your body mechanics, and prevent injury by improving your swing, posture, or equipment.

It i
s our prime mission at La Ruffa Chiropractic & Sports Rehab to help you achieve restoration of function, improve your quality of life, improve physical ability, and achieve pain relief through non-surgical treatment. Physicians and satisfied patients are our greatest sources of referral. We've seen people turning in greater numbers to wellness centers such as ours for everything from chiropractic care to massage and sports injury recovery. We emphasize improving your total health in an effort to reduce the risk of pain or illness. Our team, headed by Dr. August La Ruffa, will personally custom-tailor a wellness program for your physical needs using the least invasive and most effective techniques and treatments used in the practice of functional medicine.